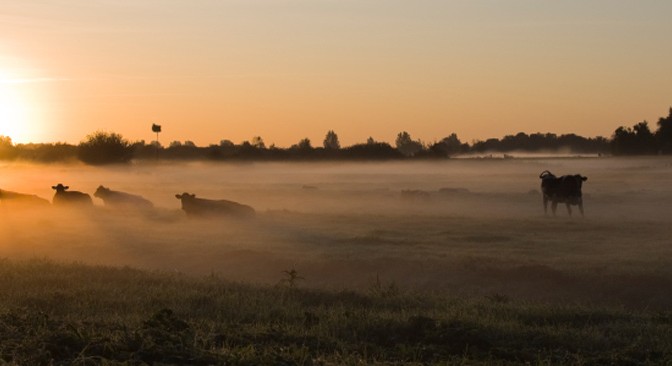 There is a hazy mist over the rolling hills of southern Wisconsin and I am pulled out of my thoughts to see its magnificence. I quickly realize that I have made time for this vantage point, this morning, this day, and it is a meditation to stop my thoughts long enough to see this beauty.
The view is from my car window because it's 6:30 am and I am driving to my yoga class forty miles away in Illinois. My quick burst up the road and into class is a memory and the ever-present reality of my current situation seems to loom hugely, like an elephant in the room that I inconveniently bump into every time I try to do something.
I like to think of myself as a spirited person, liberal in my thinking but open to the opinions of others, fairly content to know that they have their journey through life as well and it is wiser for me to work on my own life rather than get mired in any possible disregard of my viewpoint.
I joked recently that every twenty years I seem to have a life change, a metamorphosis into another me. I also know in my heart of hearts that change pushes us to become something better, something bigger, and something more in line with who we really are in this great, big school of life.
So, here I am embracing change at that approximate twenty year marker, leaving my marriage and sorting out what it is I think I am going to do now. I have an idea, a vision, and a desire of what my new life will look like even though others might feel I am jumping off the edge of the earth in a free fall of immense proportions.
The last few years have been a turning point, and I might add that the turn was sharp and hard to ignore even though I tried and tried to close my eyes against any number of possibilities. It's amazing how frozen in denial we can be when not paying attention to what our heart has to say.
I have learned that my heart is not in my brain, but my brain just might be in my heart!
When I was in my twenties, I thought I was doing the best I could even though I was so full of insecurity it was strangling my ability to believe in myself at all. My innate goodness was always present, but alas, my ability to believe in myself fully was not. As I turned forty the abrupt change presented to me seemed almost unimaginable. My husband who traveled for business most of the year for long stretches at a time decided I was not the one for him. I held my head high and with two children in tow, made my way through the grand shift. It was years later that I saw the growth spurt that followed this ending.
I learned to recognize and honor the people that have fed me the wisdom I now realize is for my greater good. I saw my part in all the pictures from my past, which brings me eerily to this point in time with the ending of my second marriage, a thought so foreign to me from all the dreams of marital contentedness that I had as a child.
I do believe that we are deeply entrenched in a time of empowered women. I often say that women of all ages, many even in their eighties and nineties, will consciously choose to go out the door and step forth to try something new. While I hope they will not have to leave their marriages or partnerships to do so, I do wish them a delicious time as they try new passions. I am certainly feeling the passion and the shift to a new me.
Throughout the years, I have learned that my heart is not in my brain, but my brain just might be in my heart! With this choice piece of wisdom, I finally understand that many of the answers I danced around for years have been available all along. I also understand that change is inevitable, that it is good, and that it is possible to maneuver change with grace.
We are deeply entrenched in a time of empowered women. I wish them a delicious time as they try new passions.
Wishing my journey further along has mixed feelings attached to it. I have not acquired an apartment due to my present financial picture but I have found a job through which I have stepped outside my comfort zone and proven to myself what I can do. I walked through a doorway and was fearless for the brief second that encouraged me to know I could always try.
There is very little spare time now but somehow I find time to work with others, guiding and teaching the intuitive, "listen to your inner voice" path. I certainly know what the path looks like! I know what it is like to ignore the teachings of the heart and then pay the price later.
I feel again the wonder of synchronicity as our home sold in record time, just by putting out an email to the neighborhood book club, and how the appraisal just happened to come in at our asking price. How all the neighbors rallied around us and did things, like helping us pack and feeding us and cleaning everything as the movers were loading us up and sending us off. How they continue to care, to call, to text, just to say they love me and that they are sad that our marriage is strained and ending but dutifully keeping out of the fray.
It is a gigantic leap to finally find my voice, knowing full well that the house was nearly lost, any hope of a nest egg gone. My saying goodbye to so many years of "stuff", hanging on and then letting go, and finally, finally feeling liberated in the knowing that it is indeed just "stuff."
At least six days each week I travel back into the northwest suburbs of Chicago to work, play, and feel emotionally connected to what I know and love. The rental property that holds the last remnants of my past is gifted to me for a time as I sort out my pathway. It also happens to belong to my first husband. The world does work in mysterious ways. My dog is living here on the weekends and during the week with my former dog walker who has graciously told me she will not take a cent and no, I can't find a home for Kenzie just yet, because things have a way of working out. Give it time.
I know what it is like to ignore the teachings of the heart and then pay the price later.
I could complain about the drive and am a bit worried about the commute on snowy, stormy days, but know this is simply a means to an end. The other day I realized I had been eagerly anticipating the dairy farm that I pass twice every day. Mornings I see the doors wide open and the cows lined up feeding in rows. Across the way the line forms out of another barn that obviously is the milking area. Very orderly and I realize I can count on this commonplace occurrence every day. And every evening on the way back, the barn doors are closed but if I peek quickly the cows are all inside with gentle light and I think, where else would I have taken the time to notice this? Is this the time to exhale, to see life in all its varied rhythm?
There is no legal separation at the time of this writing. I don't even know how to do that or more importantly how to pay for it but I will. I hope I will not judge, will not look back except to see the signposts that led me to myself. I will wish him well, and understand that I did nothing wrong. While I initially wrote down the things that hurt me, I have instead removed them so that I can focus on positive feelings. I would like to be his friend and wish us both the best kind of happy ending.
My children are such an inspiration to me. They provide guidance, support, love, laughter and gentle healing. They have taken on a bit too much in the new picture of my future. No parent wants to have to lean on their child but oh how lovely and bittersweet it is when they not only embrace it but encourage it. Watching them maneuver their lives with grace and integrity helps me want to move forward as well.
My sister in Ohio has listened weekly to my rambling sadness and my dreams. She is a gentle listener, having the perfect ability to simply hear me, over and over again. I am reminded that family is all around me, in the heartfelt bonds of many friends.
It is never too late. Late blooming is encouraged!
There is something to be said for traversing this road when most my age are winding down, traveling, and perhaps taking care of two homes. I am at once young again, with plans and dreams that deserve a chance. It is never too late. Late blooming is encouraged.
The sky here is spectacular, even on a foggy morning. The sunrises and sunsets focus the meditation of the drive and I find I can't complain that this isn't where I want to be right now. This isn't the right state, or the right house, and I shouldn't have had to go through any of this. It is now that I remember I am part of everything that happens. Perhaps I did need to be here at this time. The sky draws me in every time, unwavering, speaking loudly about noticing what is available if we open our hearts and see. I will gently shut the door and walk into the next twenty years of my life. Empowered, happy, worthy and magnificently okay.